General
Sensory Disorders
Skin Disorders
Hormonal Disorders
Neurological Disorders
Cardiovascular Disorders
Physical Disorders
Myopathies
Fat/Lipid Storage Diseases
Protein Storage Diseases
Diagnosis
Genetic Traits by Breed
GENERAL
Most of the 40 different domestic cat breeds originated within the past 200 years, largely due to selective breeding for aesthetic rather than functional traits. This human selection process (breeding together very closely related cats to develop particular characteristics) has played an important part in the evolution of genetic diseases in cats. In some cases, the breed itself has been based on an inherited disorder.
Inherited disorders are conditions that arise due to abnormal genes that are passed down from one generation to another. Genetically determined disorders can be obvious at birth, but some may not develop until later in life. Recent advances in genetic investigation and testing makes it possible to identify the gene defects associated with a number of inherited conditions.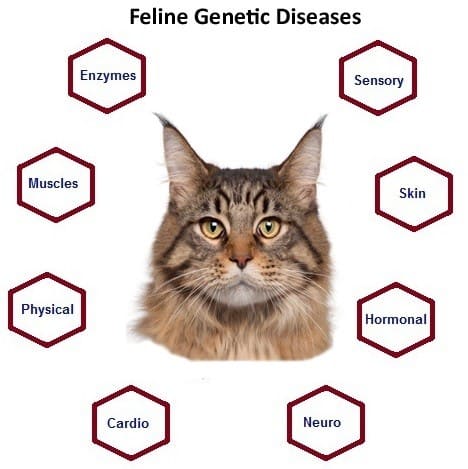 SENSORY DISORDERS
Dermoids
Coloboma
Heterochromia (odd-colored eyes)
Congenital lens anomalies (cataracts)
Strabismus (Cross-eyed and squints)
Staphyloma, exophthalmos, microphthalmos
SKIN DISORDERS
Long Hair
Rex Coat
Congenital hypotrichosis
Follicular dysplasia
Pili torti
Hereditary epidermolysis bullosa
Cutaneous athenia
Vitiligo
Waardenburg syndrome
Chediak-Higashi symdrome
HORMONAL DISORDERS
Congenital hypothyroidism
Malignant hyperthermia
NEUROLOGICAL DISORDERS
Dysautonomia (acute onset regurgitation, constipation)
Hypoganglionsis (congenital constipation in kittens)
Distal polyneuropathy (degenerative polyneuropathy of Birman cats)
Hypernatremic Neuropathy (Episodic weakness)
Hyperoxaluria (congenital acute renal failure and secondary neurological signs)
Polymyositis (immune-mediated myopathy)
Myasthenia gravis (adult-onset immune-mediated myopathy)
Spongiform encephalopathy (congenital disease of Birman cats)
CARDIOVASCULAR DISORDERS
Hemophilia A, B
Pelger-Huet Anomaly
Hypereosinophilic syndrome
Chediak-Higashi syndrome
Neonatal isoerythrolysis
Maine coon cardiomyopathy
Ragdoll cardiomyopathy
Cardiac stenosis
Patent ductus arteriosus
Atrial septal defects
Tetralogy of Fallot
Tricuspid dysplasia
Mitral valve dysplasia
Chemodectoma
PHYSICAL DISORDERS
Achondroplasia (Dwarfism)
Atresia ani
Brachycephalic syndrome
Burmese craniofacial defect
Cataract
Cleft palate
Cranioschisis
Craniosynostosis
Cryptorchidism (retained testicle)
Cutaneous asthenia
Deafness
Hemifacial microsomia
Hernias
Hip dysplasia
Hydrocephalus
Hypotrichosis
Megaoesophagus
Patellar luxation
Radial agenesis
Osteogenesis imperfecta
Umbilical hernia
Polycystic kidney disease
Polydactyly
Scottish fold osteodystrophy
Tail deformities
a name="mypoathies">
MYOPATHIES
Episodic weakness of Burmese cats
Nemaline myopathy
Myasthenia gravis
Duchenne muscular dystrophy
Myotonia congenita
Primary hyperoxaluria
Devon rex hereditary myopathy
Glycogen storage diseases
Amyloidosis – systemic amyloid accumulation in Abyssinian, Siamese and Oriental shorthair cats
Gangliosidosis – neuronal beta-galactosidase deficiency in Korat, Siamese and Domestic shorthair cats
Alpha-mannosidosis – systemic mannoside accumulation in lysosomes Mucopolysaccharidosis (MPS I – VII) (Mucolipidosis) – systemic mucopolysaccharide accumulation
Globoid cell leukodystrophy (Galactosylceramide lipidosis) – neuronal galactocerebrosidase deficiency
Glucosyl transferase deficiency – systemic glycogen accumulation in Norwegian forest cats
Chediak-Higashi syndrome – systemic tyrosinase deficiency in Persian and Siamese cats
FAT/LIPID STORAGE DISEASES
Hyperlipidemia – lipoprotein lipase deficiency
Ceroid Lipofuscinosis – neuronal lipid accumulation
Niemann-Pick disease – neuronal accumulation of cholesterol in Siamese, Oriental, Balinese
PROTEIN STORAGE DISEASES
Laminin alpha-2 deficiency
Pyruvate kinase deficiency – systemic disease in Abyssinian and Somali cats
Methemoglobin reductase deficiency – rare disease reported in domestic shorthair cats
Nemaline myopathy – familial muscular dystrophy
Hypokalemic polymyopathy – in Maine coon, Burmese and Devon rex cats
Granulation anomaly in Birmans
DIAGNOSIS
There are veterinary diagnostic laboratories that offer genetic (DNA) tests for different animal diseases. Many laboratories offer DNA testing for cat coat colors and cat parentage, as well as tests for inherited disorders.
Where there is a relatively simple mode of inheritance, and where there is a DNA test widely available, controlling an inherited disease may be relatively straightforward. In other cases it may be more difficult.
GENETIC TRAITS BY BREED
A
Abyssinian
Corneal sequestrum
Familial amyloidosis
Feline infectious peritonitis – predisposition to development of
Gingivitis – hyperplastic, early onset
Progressive retinal atrophy (PRA)
Progressive rod cone degeneration and rod cone dysplasia
Pyruvate kinase deficiency
Retinal dystrophy
Thromboembolism
Australian Mist
Feline infectious peritonitis (susceptibility to effusive FIP)
B
Bengal
Feline infectious peritonitis – predisposition to development of
Birman
Azotemia
Distal axonopathy
Encephalomyelopathy
Feline infectious peritonitis – predisposition to development of
Neutrophil granulation anomaly
Renal calculi
Thromboembolism
British Shorthair
Feline infectious peritonitis (susceptibility to)
Hemophilia B
Burmese
Diabetes
Feline infectious peritonitis: one study said less at risk; another said more at risk of dry FIP.
Feline leukocyte antigen DRB restricted polymorphism
Flat-chested kittens
Glaucoma – the Burmese cat may be predisposed to primary narrow-angle glaucoma
Hypokalemic myopathy
C
Cornish Rex
Feline infectious peritonitis – predisposition to development of
D
Devon Rex
Dystocia
Myopathy
Vitamin K-dependent multifactor coagulopathy
Domestic Shorthair
Corneal sequestrum
Diabetes
Gingivitis-periodontitis feline juvenile-onset
Hageman (coagulation factor XII) deficiency
Mucolipidosis type II
Pyruvate kinase deficiency
Staphyloma
Ventricular septal defect
H
Himalayan
Corneal sequestrum
Feline infectious peritonitis – predisposition to development of
K
Korat
Gangliosidosis
Sandhoff disease (GM2-gangliosidosis)
M
Maine Coon
Gingivitis-periodontitis feline juvenile-onset
Hypertrophic cardiomyopathy
Laminin alpha2 deficiency-associated muscular dystrophy, myopathy
Manx
Sacrocaudal dysgenesis
N
Norwegian Forest Cat
Type IV glycogen storage disease
P
Persian
Chediak-Higashi syndrome
Corneal sequestrum
Dystocia
FIP – less susceptibility than some other breeds
Gingivitis – hyperplastic, early onset
Progressive retinal atrophy
R
Ragdoll
Feline infectious peritonitis – predisposition to development of
Thromboembolism
S
Scottish Fold
Osteodystrophy
Siamese
Dystocia
Familial hyperlipidemia
Gingivitis-periodontitis feline juvenile-onset
Mucopolysaccharidosis
Nystagmus
Porphyria
Somali
Progressive retinal atrophy (PRA)
Pyruvate kinase deficiency
T
Tonkinese
Renal calculi
This material is provided for educational purposes only and is not intended to diagnose or treat any disease or condition. All specific treatment decisions must be made by you and your local, attending veterinarian.
RELATED PRODUCTS