30% of all cats will develop arthritis during their lifetime. 1 out of every 5 dogs under 7 years of age will get some form of joint injury or joint disease. For our senior dogs, 7 out of every 10 suffer from the most common form of joint disease in pets – painful and debilitating osteoarthritis. Osteoarthritis is characterized by the breakdown of cartilage in one or more joints accompanied by inflammation and pain that progresses to a debilitating condition that can severely affect joint mobility and health.
Dr. Bill's Complete Joint Care contains a proprietary Aliva® Joint Support Complex along with multiple key ingredients that work together to control the events that allow joint damage to become a chronic destructive, debilitating disease. Complete Joint Care is the most comprehensive, natural joint formula available today and is capable of breaking the osteoarthritis cycle, repairing damaged cartilage, and strengthening muscles, ligaments and tendons – the supporting structures for your pet's joints.
Complete Joint Care has been shown to be safe for dogs and cats of all ages.
Proactive Nutritional Support For:
Joint Pain
Inflammation Control
Collagen Production
Joint Lubrication
Flexibility & Mobility
Muscle Strength
Ligament & Tendon Strength
Joint Stability
Proactive Nutritional Support For:
Optimum Joint Health
Mobility and Flexibility
Ligament & Tendon Strength
Active Muscle Metabolism
Biologically Appropriate, Natural Ingredients
Green Lipped Mussel Extract, Collagen Type I, II, V & X, Hydroxymethylbutyrate (HMB), Omega-3 Fatty Acids, Methylsulfonylmethane (MSM), Turmeric, & Hyaluronic Acid
NEW Subscribe & Save
Save 10% On Auto Deliveries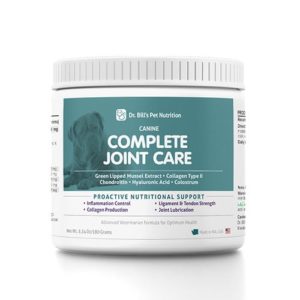 Kelsey
"We have a 9-year-old chocolate lab and she had a major hip injury and surgery a few years back and her joints have never been the same. We have started giving her Dr. Bill's Canine Complete Joint Care and have noticed HUGE improvements in her joints, health and happiness. She hasn't been able to jump on our bed to snuggle for years and since taking this we have woken up with her snuggling up right next to us in the mornings :)"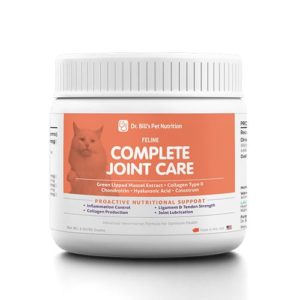 Lisa
"My Precious is 16, a blue tuxedo short hair. She wouldn't let you touch her back hips so I knew she was hurting. When I first introduced the Feline Complete she wouldn't eat the food. She is a finicky eater but I persevered bc I wanted to help her. Finally found she would eat it if I mixed with a small amount of warm water and then put the small amount of wet food she gets in the morning on top and chopped up. She is eating it all now and not leaving anything in the bowl. It's just been a few weeks so not sure if it is helping her hips yet because she is a lazy one. She hasn't been very active for the last few years given my best intentions to get her moving. She is able to get on the couch and did get on her hindquarters the other day to give me a kiss something she hadn't done in quite a while. I thought I was going to have to return the product at first but now that she is eating it with her wet food I am hoping it is doing her some good. I understand and like the ingredients in the product so know they will benefit her in the long run."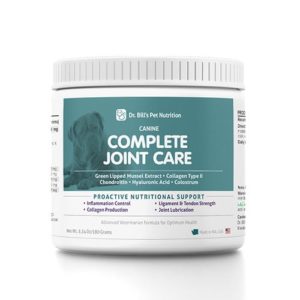 Kathy
"It's great & effective… And the dogs LOVE the taste!"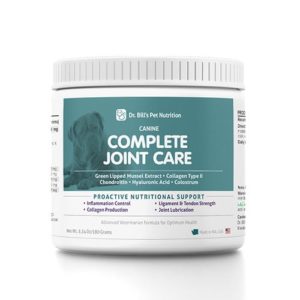 Kristine C.
"Our Golden Retriever Luna will be 11 yrs. old in March. She lays on the tile floor (I guess because it's cool) and use to have a hard time getaway up. Since Dr. Bills joint powder she moves much better! I even tested it by using 1 jar, and then not giving to her for a month… I reordered because I could really tell the difference before and after!"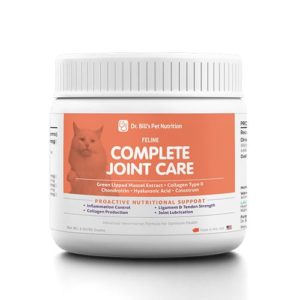 Royce
"I purchased this for my 18-year-old cat, Milo. He has diabetes and arthritis in his back legs. I have added a little at a time to his wet food. He eats it with no problem. In 2weeks there is definitely a difference in the way he walks. He I not in crabby moods as much. He is actually walking better. I would highly recommend this product especially for an older cat. I definitely have seen difference in my Milo. "
Newsletter Signup
& Special Offers