Similar to dementia in humans, our pet's brain function slowly declines as they age. This condition is scientifically termed Cognitive Dysfunction. The deterioration of cognitive abilities is typically characterized by behavioral changes such as memory loss and diminished motor function. Cognitive Dysfunction can affect your pet's interactions with both humans and other animals. Even well socialized dogs and cats may become irritable, withdraw from their owners and favorite activities, or fail to notice things that used to interest them like the doorbell ringing or greeting visitors. Cognitive dysfunction gradually worsens over time and is often referred to as "cognitive decline." Unfortunately, the nutrients required to maintain optimal brain function are difficult to find in today's commercially manufactured pet foods. Dr. Bill's Cognitive Support provides superior protection for maintaining brain health and potentially even reversing the signs of cognitive dysfunction.
Cognitive Support has been shown to be safe for all adult and senior dogs and cats.
Proactive Nutritional Support For:
Preserving Memory
Improving Motor Function
Reversing Unwanted Behavior
Slowing Cognitive Decline
Biologically Appropriate, Natural Ingredients
Phosphatidylcholine, Phosphatidylserine, Gingko Biloba, DHA, L-Carnosine, Vitamin B6, Vitamin B12, L-Glutamine, & L-Tyrosine
NEW Subscribe & Save
Save 10% On Auto Deliveries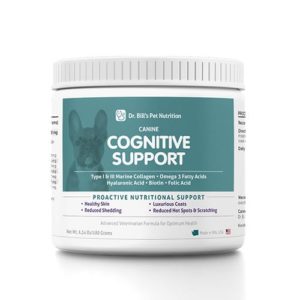 Mike and Renae
"We have a couple of older dogs. One, in particular lost ability to run or walk very well. She kept her nose to ground and seemed to be unable to really function. My vet said what be believed was wrong and it would only get worse. It would come and go, usually affecting her for seven to ten days. He recommended trying your product. It's been 5 months and she hasn't had a spell since. I'm also giving to a dog even older.( my wife and I rescue dogs and cats. We are their forever home- we don't adopt out. We are getting long in the tooth so I don't know how much longer we can do this. Love and take care of your babies. They can't do it alone."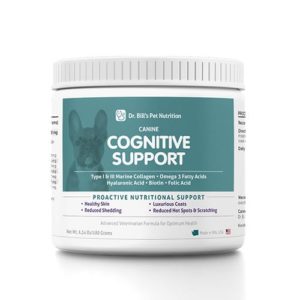 S. Shade
"I had my ES on Senelife when she started showing signs of Canine Cognitive Dysfunction (Doggie Alzheimers). After about 6 mos it stopped working for her so I looked around for something else. Started my old girl (15 yoa) on it about 3 weeks ago after I took her off of Deramax for her arthritis. She is doing VERY well on this and her arthritis does not seem to be giving her pain. She is alert and full of puppy energy. We had a vet appointment this morning and the vet said she was shocked at how active and energetic my old girl is. She didn't even want to discuss putting Mollie back on any arthritis or pain meds. I give it a big thumbs up."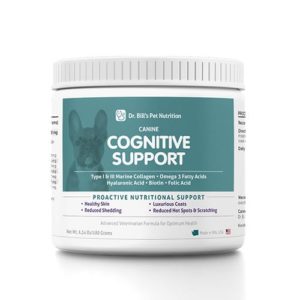 M. Manoa
"My recently adopted 17 year old beagle was showing dementia signs. this powder seems to be helping and is apparently really tasty. the beagle will lick it up straight off a plate, no disguising necessary."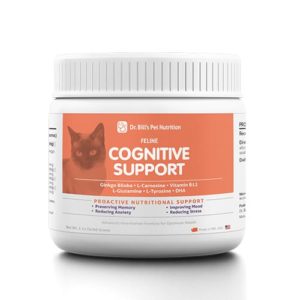 Linda H.
"My black cat who is about 10 years old was rust-colored, weak, and had lost muscle mass. After about a month we could see black hair coming in and he had more muscle and increased activity. Now about 3 months later he is back to his energetic self. I am sure this product does not cure everything and I am happy that for a black cat there are clear signs it works."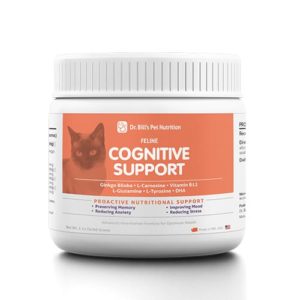 D. Burrow
"Seems to really be helping our almost 20 year old cat. Her appetite has increased & she seems more peppy."
Newsletter Signup
& Special Offers