Does your dog exhibit excessive barking, chewing, digging, fear of loud noises, begging, chasing, jumping, or biting? These are all traits that can strain the relationship you have with your pet. Other more serious behaviors such as inappropriate elimination, separation anxiety, or aggressive behavior can destroy property and create many other more serious problems. You can help your dog manage the root of the bad behavior (anxiety and stress) by allowing them to naturally calm down and relax.
Canine Behavior Support provides a proprietary blend of calming herbs such as Chamomile, Lemon Balm, and Valerian to help your dog navigate the stresses of everyday life. While unwanted behaviors usually require retraining, you can make that training easier on both you and your dog with Canine Behavior Support.
Canine Behavior Support has been shown to be safe in young, mature, and elderly dogs.
.
Proactive Nutritional Support For:
Anxiety
Hyperactivity
Aggressive Behavior
Separation Anxiety
Motion Sickness
Biologically Appropriate, Natural Ingredients
Chamomile, Lemon Balm, Valerian Root, Taurine, L-tyrosine, Inositol, Ginger, Magnesium, 5-Hydroxy Tryptophan, & Thiamine
NEW Subscribe & Save
Save 10% On Auto Deliveries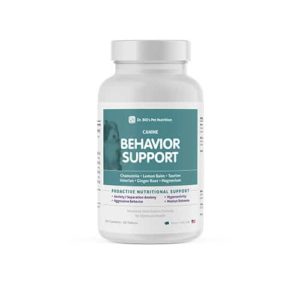 Amazon Customer
"Let me start off by saying…THIS PRODUCT WORKS! Our greyhound, Indie, has struggled with severe separation anxiety since we adopted her two years ago. We were always afraid to leave her alone because she would destroy everything in sight, urinate all over the apartment, and bark and scream for hours. We couldn't leave without fearing for our possessions, or that our neighbors would complain about her terrified screams. We tried everything to help our poor pup. DAP diffusers, Thundercoat, treats, toys, desensitization training–you name it…nothing helped. Then we found Dr. Bill's Behavior Support. TOTAL GAME CHANGER! We give Indie a tablet with her breakfast, and she eats it right up. After about 20 minutes, she becomes noticeably more calm and relaxed, and she doesn't pant, shake, or hyperventilate as we go about our morning routine. Behavior Support has accelerated Indie's desensitization training, making it easier for us to leave her alone. She is much more tranquil as we get ready for work, despite the "trigger noises" like jingling keys or the hairdryer. We're at a point where we can leave her alone for the entire workday, and she is fine. It's been an incredible transformation and I highly recommend this product. P.S. It also works wonders on road trips, if your pup is an anxious traveler like ours!"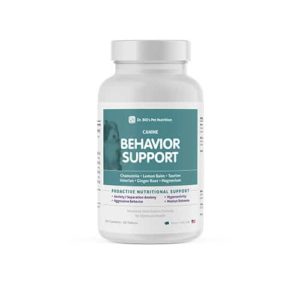 Kim
"As a breeder and trainer I am always looking for supplements to support positive changes in behavior. This product has been very helpful."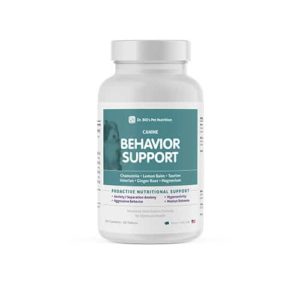 Itsrobyyy
"Excellent product. This helps my incredibly excitable Aussie to calm down on days he ahs
to be in the kennel for long periods of time. Works fast, I normally see results within 15-
30 minutes!"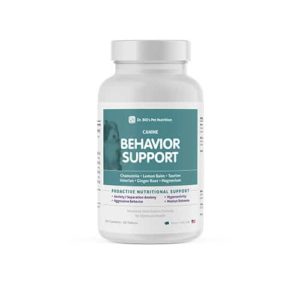 Stephanie
"Took about 30 minutes to start working, works very well! Used it for my 50 pound basset hound who is terrified of storms and she went to sleep instead of being scared."
Newsletter Signup
& Special Offers