The innate immune system is your pet's first line of defense against all infectious organisms. Unfortunately, there are many factors that can compromise your pet's immune system, leaving your dog or cat vulnerable to illness and disease. Dr. Bill's Immune Support can provide added protection by enhancing the ability of your pet's innate immune system to detect, track down, and kill invading organisms.
This potent blend of immune enhancers bolsters your pet's natural immune response, increasing its ability to defend against disease and aid in cellular protection. Immune Support contains a patented and proprietary long chain Beta 1,3 1,6 D-Glucan that scientific research has shown can have a positive impact on the innate immune system, raising it to a level of peak effectiveness.
Immune Support has been shown to be safe for dogs and cats of all ages.
Proactive Nutritional Support For:
Optimum Immune Health
Rapid Immune Response
Cellular Protection
Disease Prevention
Biologically Appropriate, Natural Ingredients
Colostrum, Lactoferrin, Beta Glucan, Dimethylglycine, CoQ10, Lactobacillus, Bifidobacterium, Echinacea, Vitamin C, & Zinc
NEW Subscribe & Save
Save 10% On Auto Deliveries
Anonymous
"I am on my second order of this product, my dog had hives and was losing his hair in some places, none of the topical remedies were working well so I decided to try this product because I thought he needed to boost his immune system as well. He was a shelter dog and had a skin condition before which was treated with antibiotics. He also had very smelly feet from yeast. I stopped using the topical treatments over a month ago. He is much better now, his hair has grown back and he has even more hair in places where it was thin. The product was always delivered on time. My dog likes the taste."
Anonymous
"We have an older Australian Shepherd and she's loving this! We haven't used it for very long yet but it seems like it will be a great supplement. She absolutely loves the taste of it, whether we wet or down or give it to her dry."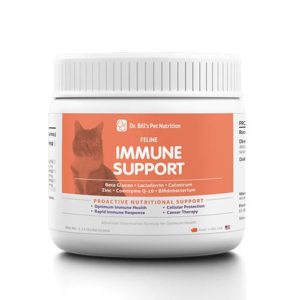 A. Smith
"We have a Persian who has been sick on and off
since she was a kitten. Her latest was a trip to the vet with fever breathing issues and 900 dollars later we had our baby back. A month after this she was sick again acting the same as before. Not eating, fever etc.. I remembered I bought this and began giving it to her and giving water and food via syringe. Within days she was getting better. I have to attribute her wellness to this product. She is still doing well with this product. I love that she is feeling better. If you have a sick kitty I would recommend this product. I mix it with a little water and syringe it in her mouth. She acts like she knows it helps her. Doesn't fight it much at all."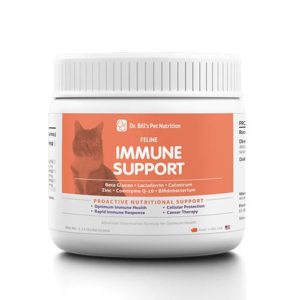 Anonymous
"My finicky little 8 year old princess snubs her nose at EVERYTHING! But NOT Dr. Bill's Feline Immune Support. I add a drop or two of bottled water to the powder and blend with her food making a "gravy". She loves it! Kitten like behavior- playful, active, happy and has a tremendously silky coat. Her once weepy eye is clear and bright. Highly recommend all of Dr. Bill's high quality products. Will definitely purchase again. Thank you!!!"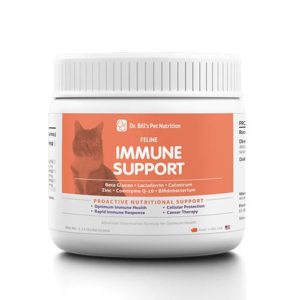 C. Donohue
"Really great product! It's very hard to find all of these ingredients in one product. Dr. Bills product line is one of the most comprehensive, well informed product lines I have been able to find. My own research and use of this product (and others) backs up it high effectiveness for a sick kitty."
Newsletter Signup
& Special Offers