Your pet's skin is the largest organ system in their body. It acts as a barrier to protect them from infection, parasites, and the environment. Their fur and coats also serve important functions – protecting the skin from physical damage, harmful UV light, and aiding in the regulation of body temperature.
Dr. Bill's Optimum Skin & Coat products are highly concentrated nutritional powders that are scientifically formulated to provide a balanced blend of high-quality protein sources and powerful nutrients that are helpful in producing healthy skin and luxurious fur and coats. Whether your pet needs a fuller, healthier coat, faster regrowth of hair due to damage, shedding, whelping, or simply a bad haircut at the groomers – Optimum Skin & Coat is your product of choice.
Optimum Skin & Coat has been shown to be safe for dogs and cats of all ages.
Proactive Nutritional Support For:
Healthy Skin
Luxurious Fur & Hair Coats
Reduced Shedding
Less Itching & Scratching
Hairball Reduction (Feline)
Biologically Appropriate, Natural Ingredients
Omega-3 Fatty Acids, Collagen Type I & III, Biotin, Ground Flax Seed, Pacific Kelp, Vitamin B12, & Vitamin E
NEW Subscribe & Save
Save 10% On Auto Deliveries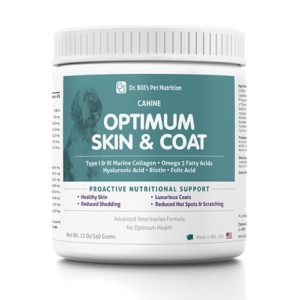 Amazon Customer
"I'm actually astonished at how effective this product has been! It has made an ENORMOUS difference for our dog, Indie. We started administering the supplement to Indie, and then left on a trip to London for a week. Our dog sitters fed Indie the supplement each day, according to the instructions on the label. When we returned from our trip, Indie's coat was glistening! It's so much more lustrous and smooth, with less shedding. What's more — Indie LOVES the taste of
this stuff! I can't believe the improvement we've seen in only a week! Truly a miracle product! So glad we found this hidden gem, and I'm excited to see how Indie's coat looks in a month from now! Thank you, Dr. Bill! We'll be using your products for life! (P.S. Another bonus is that the serving
scoop is actually quite small, so this product will last you a long time!)"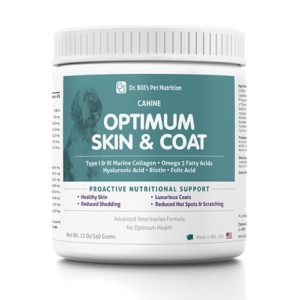 Kindle Customer
"Great source of biotin for dogs. My dogs love the taste making this product easy to feed. I started my Border collie on this because she recently lost 85% of her coat due to a food allergic reaction, this supplement added biotin to her diet and more omega 3, just what I was looking for to help her replenish her coat. Her coat is now coming back in beautifully."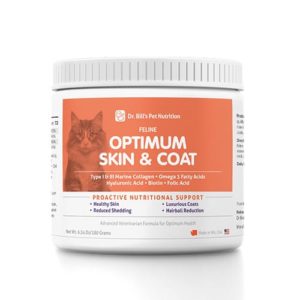 Margret
"I had such great results with the Fitness and Health product that I decided to try the Optimum Skin and Coat. As my cat has gotten older her fur became dull and tangled all the time into knots that we had to go to the vet to have cut off. This product worked just as well as the Fitness and Health and after about a month her fur is back to being shiny and healthy and no more tangles and knots. I can't believe it was so simple and that a product like this exists. I just mix a tiny bit of the powder into her food every day and she gobbles it right down."
Newsletter Signup
& Special Offers