Making sure our pets are getting the proper nutrition will do wonders for their quality and length of life. Considering the pet diets currently available today, this would be next to impossible without the use of a high-quality nutritional supplement.
Dr. Bill's Ultimate Fitness & Health products are specifically formulated to help our pets during life's most stressful periods such as weaning, growth, training, performance, reproduction and lactation, boarding, and traveling. This supplement has been clinically demonstrated over the past 30 years to assist animals during illness, injury, and for surgery recovery.
Originally formulated to help performance animals reach their maximum potential, Ultimate Fitness & Health contains the balance and strength of scientifically blended nutrients that provide optimum health, increased fitness, and maximum performance for cats and dogs of all ages. With every essential vitamin and mineral needed plus high biological protein sources, Ultimate Fitness & Health can help keep your pet in top condition and living a longer, healthier, and more enjoyable life.
Ultimate Fitness & Health has been shown to be safe for dogs and cats of all ages.
Proactive Nutritional Support For:
Overall Fitness & Health
Muscle Strength
Endurance
Natural Weight Control
Luxurious Skin & Coat
Eye, Heart, & Brain Function
Immune Strength
Cellular Protection
Digestive Balance
Joint Mobility
Improved Longevity
Biologically Appropriate, Natural Ingredients
10 Essential Amino Acids, 7 Fatty Acids, 5 Phospholipids, 24 Vitamins & Minerals, 22 Specialty Nutrients, & 8 Enzymes
NEW Subscribe & Save
Save 10% On Auto Deliveries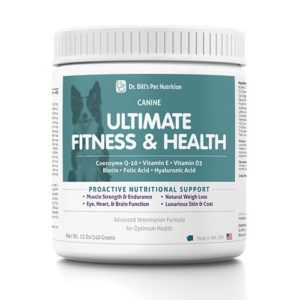 Anonymous
"My 8 year old golden really likes the flavor of the product (he's not been a great eater). and I like the fact that he gets what he needs from a single supplement. I am cautious about using different products since he has a sensitive stomach. Dr. Bills has been great. I will continue to use this product and plan to purchase again."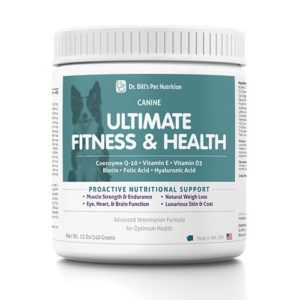 Christopher
"Dr.Bill's "Canine Ultimate Fitness" is a Great Healthy additive nutritional supplement to Balance out any type of dog food which Lacks the much-needed Nutrients that our pets Deserve & definitely Need so Thank You so much to you Dr .Bill for providing a High-Quality nutritional supplement for my Best friend! Princess scarfed it up in no time so it must taste Pleasant as well as she used to be a finicky one when it came to mealtime, just a simply Awesome product at a fair reasonable price."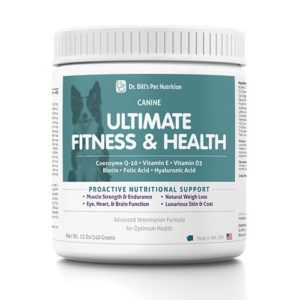 Cora
"I have been using Dr. Bill's nutritional support for 9 years. I love this product. I have three Cream female Pomeranians. They all have been on this supplement since we got them as little pups. It was recommended by one of my vets who showed dogs at the biggest dog shows and I'm so glad I followed his recommendation. My girls are healthy; all have beautiful thick coats, bright eyes, good teeth and lots of spunk! I can't recommend this product enough!"
Newsletter Signup
& Special Offers