Dr. Bill made a special guest appearance on the 1150AM KKNW show Love Has Many Faces. Marilyn Milano, host of the show, and Dr. Bill discuss the Canine Behavior Support supplement along with other tips to help train your dog. Listen below:
Love Has Many Faces airs on 1150AM KKNW (Seattle) and is all about raising awareness, touching hearts, and saving the lives of animals. Interviews are with members of small or large rescue groups, and also with businesses that benefit animals.
---
Canine Behavior Support
Many of the canine problems owners experience can be attributed to improper socialization of puppies, lack of training, a misunderstanding of normal canine behavior, placing certain breeds into environments that do not allow for natural stress relief, abuse, failure to give our dogs enough exercise, and sadly, abuse. Some behavior problems can be easy to correct, while others are more serious. Some specific issues you might be dealing with include excessive barking, chewing, digging, begging, chasing, jumping, inappropriate elimination, phobia to loud noises, separation anxiety, biting, or aggressive behavior. It is important for you, as a dog owner, to have a plan for building positive behaviors in your dog – whether you get them as a puppy or later in their life.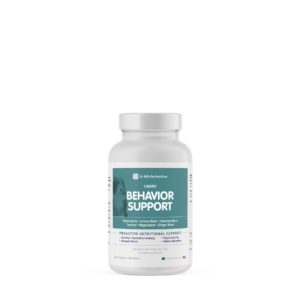 Dr. Bill's Canine Behavior Support tablets are made of a unique and effective combination of natural ingredients that help reduce the negative effects of stress in your dog. These may include anxiety, aggression, fear, separation anxiety, hyperactivity, or motion sickness. It is exceptionally useful when boarding, traveling, or training your dog.