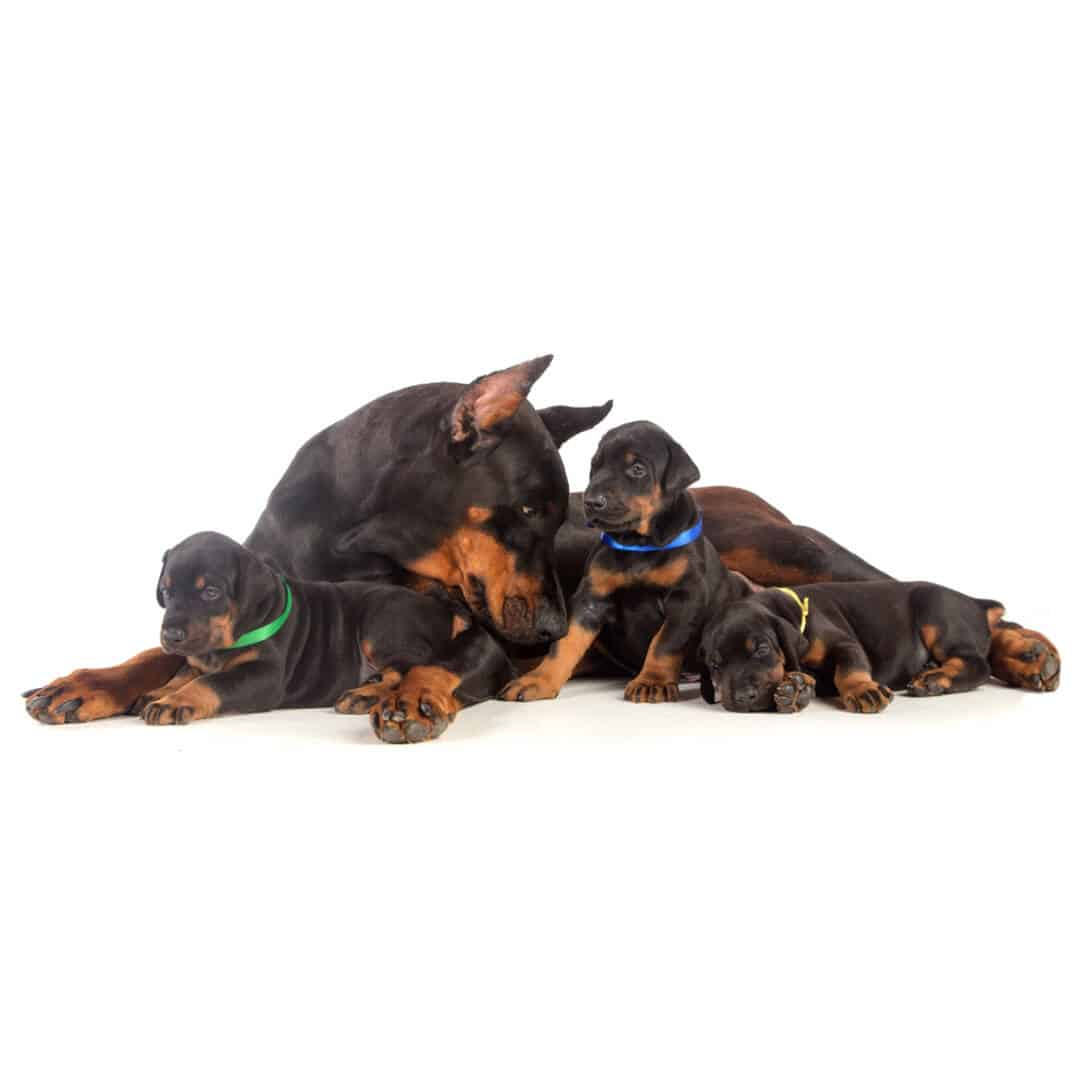 Maximum Health for Pregnant & Nursing Dogs
Dr. Bill's Supplement Recommendations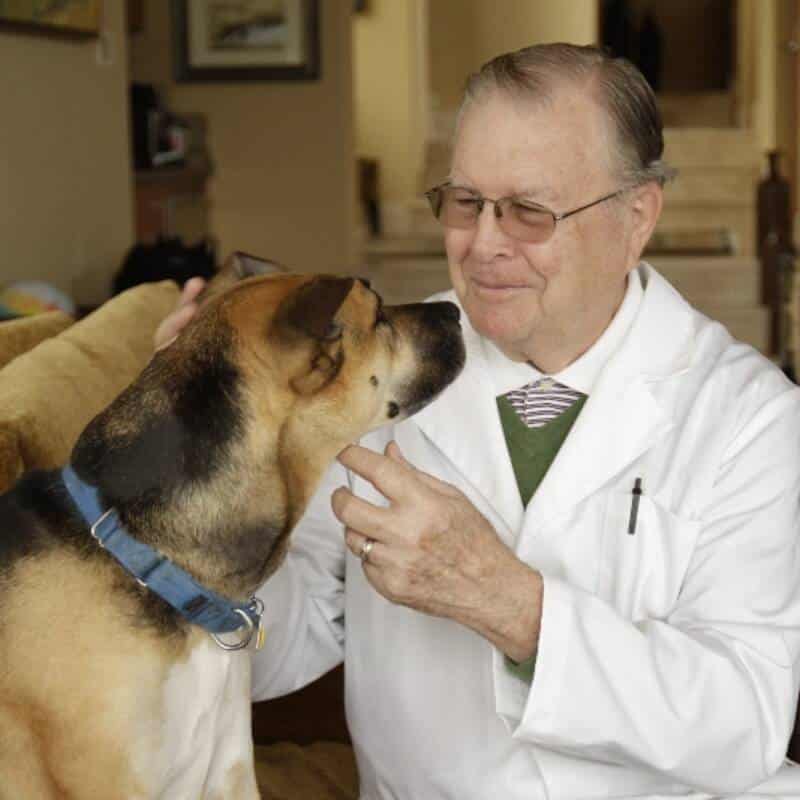 "Canine pregnancies average 63 days but can be anywhere from 58 to 68 days long. Litter sizes average around 5-6 but can vary between a single pup all the way up to the Guinness World Record of 24 puppies given birth to by a Neapolitan mastiff. Health wise, nothing usually needs to be changed for the first 30 days of pregnancy as long as mom is getting a balanced, biologically appropriate diet and just like with pregnant women, prenatal vitamins which Dr. Bill's Animal Health Supplements can supply."
—Dr. Bill Barnett
Canine Ultimate Fitness & Health
Nothing I have found in my forty years of veterinary experience can compare to the use of Canine Ultimate Fitness & Health. The 83 ingredients provide added protein, amino acids, essential vitamins, minerals plus 31 additional specialty nutrients that should be added to your pregnant dog's diet using the regular recommended daily dose during the first 30 days.
For the second 30-day period, when the puppies are beginning to grow at a very rapid pace, mom will need more daily energy & protein (food). However, with a belly full of puppies most pregnant moms have trouble finding the room needed for anything extra. This problem can be solved by selecting a food with a higher number of calories per unit weight and feeding it in smaller amounts more frequently throughout the day along with the benefits of my delicious, easy-to-use Ultimate Fitness & Health powder.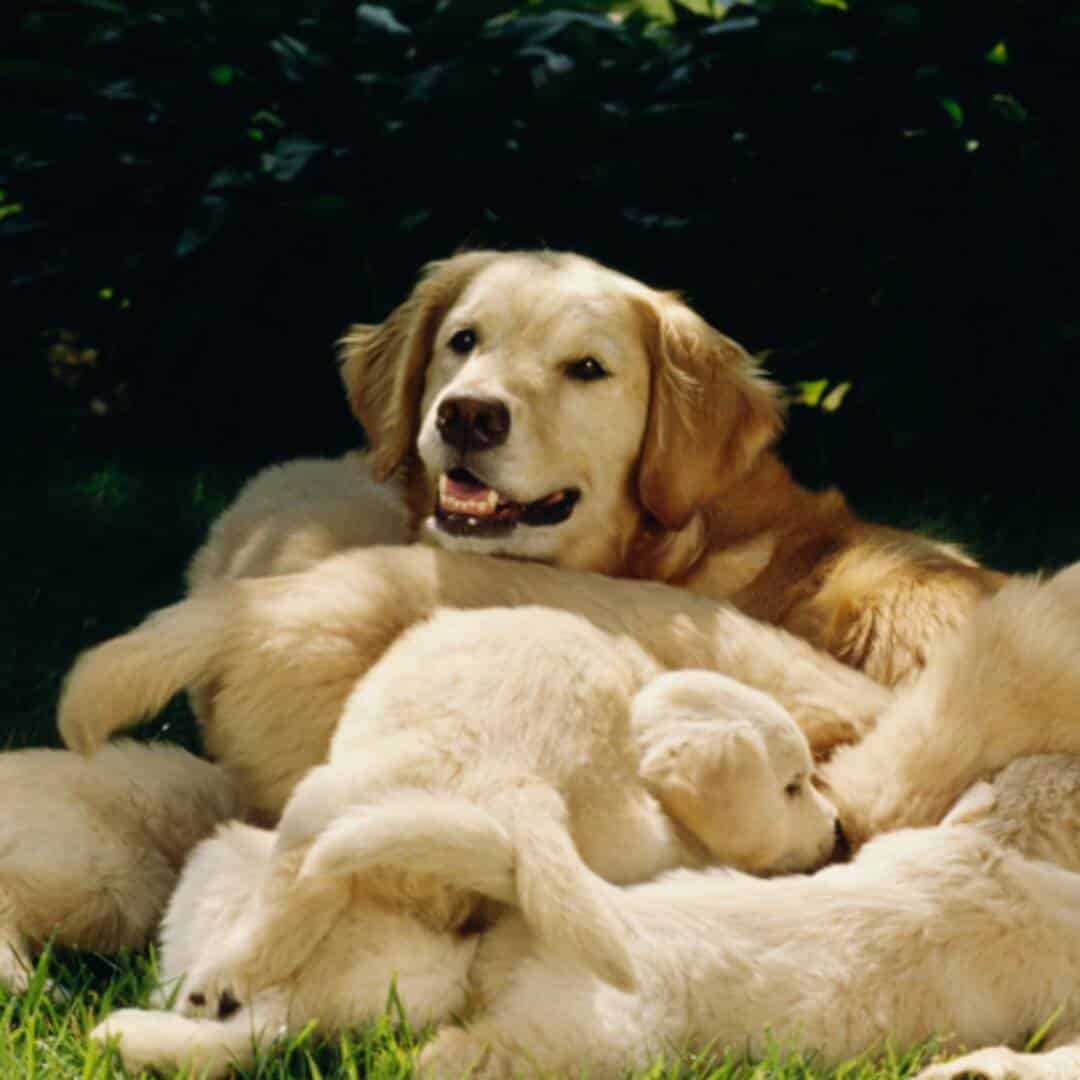 Here are the ideal Ultimate Fitness & Health dosages for each stage of pregnancy:
Weeks 1-3 standard dosage as shown on the package (based on the weight of your dog)
Weeks 4-6, increase the dose to 1.5 times the standard amount.
Weeks 7,  you should vary the dose depending on the expected litter size. Increase the supplement to twice the standard dose for 1-3 puppies; three times the standard daily dose for 4-7 puppies; and four times the standard daily dose for 8 or more puppies.
For the first 5 weeks after delivery, while mom is producing milk for her puppies, continue mom's diet at 3-5 small meals a day (or as much as she will tolerate) and maintain the supplement at the same level as her final seventh week of pregnancy. 
As weaning approaches, diet and Ultimate Fitness & Health amounts for mom can be reduced to the standard pre-pregnant dose on the package. When the puppies begin to eat food on their own start adding Ultimate Fitness & Health to their daily diet. The dosage can be determined by combining the weight of the entire litter and stirring that amount of my easy-to-use powder into the food. That way, each pup will get their fair share.
What other products should be considered for mom and the pups? High energy diets can often produce diarrhea in mom. You can stabilize disrupted intestinal bacteria with the 41 active ingredients, including pre and probiotics, in my Canine Digestive Support product. Make sure you keep it around for the puppies as they often develop loose stools around weaning time.
Maternal antibodies are transferred from mom to pup in the first few nursing sessions. These antibodies usually begin to wane before the first puppy shots are given. Even then, the vaccinations only protect against diseases like distemper, hepatitis, kennel cough, parainfluenza, and parvovirus. In addition to Ultimate Fitness & Health I recommend that all pups be given my Canine Immune Support product starting at 6 weeks of age. The 41 active ingredients work together to enhance the innate immune system helping to prevent such intruders as yeast, molds, fungus, bacteria, and viruses from turning into serious health hazards.
One last situation to discuss. That is the occasional scenario where mom decides before her pups have a chance to nurse that her job is over and doesn't allow them to nurse. When this happens, no maternal antibodies are passed on.  To prepare yourself for this, you might want to learn how to tube feed an infant pup and make sure you add Ultimate Fitness & Health to the Esbilac formula. Beginning around week 3 you can additionally begin adding the Immune Support to the formula to provide extra protection for the puppies.
More Pregnant & Nursing Dog Supplements We Recommend
Health Defense provides essential nutrients to accelerate healing. Starting around 1 year of age, antioxidant production in the dog reaches its peak and then begins to drop off as they reach their senior years. Unfortunately, throughout a dog's life there are many times where the safety threshold of protective antioxidant levels can be surpassed by an overwhelming number of free radicals. Canine Health Defense is designed to supply millions of additional antioxidants to combat these increases in free radicals that when left unchecked can create enough cellular damage to produce long term debilitating disease.
Dogs are known for wanting to please their owners, and sometimes the owners ask for more than their dog's joints can physically take. All active and large breed dogs would benefit greatly from the additional lubrication and joint repairing support nutrients found in Canine Joint Protect.
Canine Optimum Skin & Coat
There are many things capable of wreaking havoc with the skin and coats of dogs such as climate, fleas, mites, bacteria, and poor choices in nutrition. If you want your dog to look a little more like the ones you see on TV, then you need Optimum Skin & Coat. It has clinically proven its effectiveness for over 35 years in the veterinary profession and top breeders alike.
Dogs are so enjoyable when they are well behaved, but unfortunately that is not always the case. Just like people, many things can cause a dog to feel stress and anxiety, and this can lead to undesirable behaviors: Excessive barking or begging at dinnertime. Aggressively confronting other dogs when you are out walking. Problems when you leave them alone or take them in the car. Chewing on furniture. Soiling the carpet. Lack of attention when you are trying to train them. Canine Behavior Support is a natural calming formula that can help relieve the stress and anxiety that cause these unwanted behaviors. Best of all, Canine Behavior Support calms your dog without making them dopey or sleepy.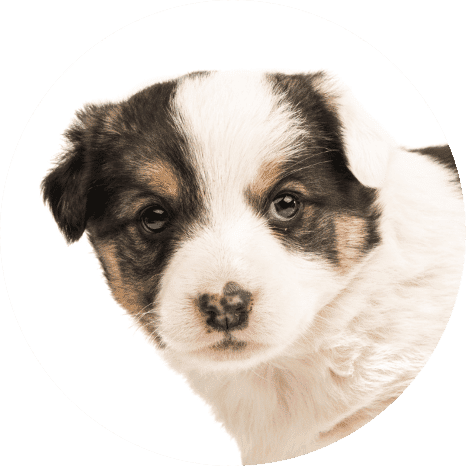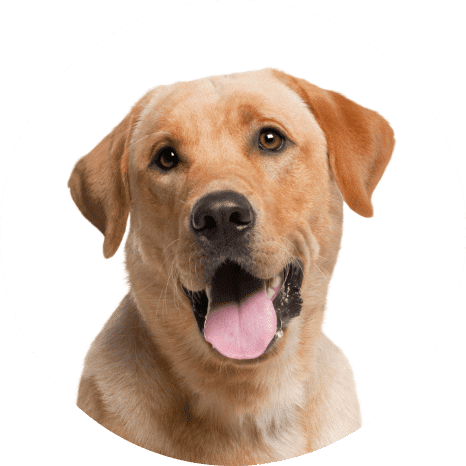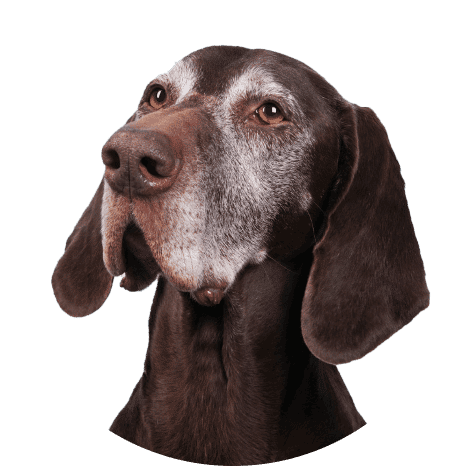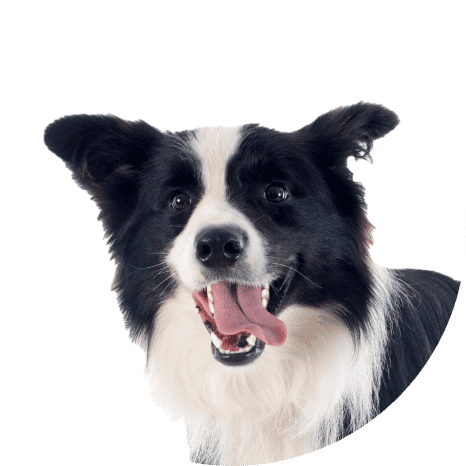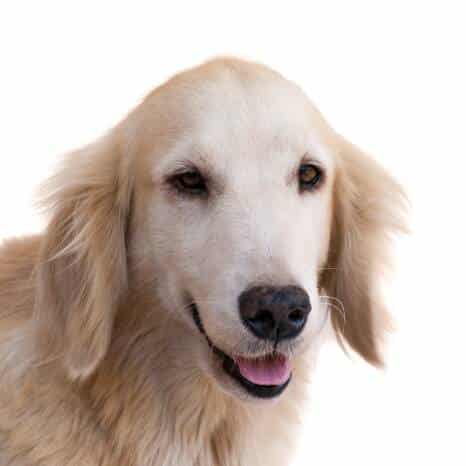 NEW Subscribe & Save
Save 10% On Auto Deliveries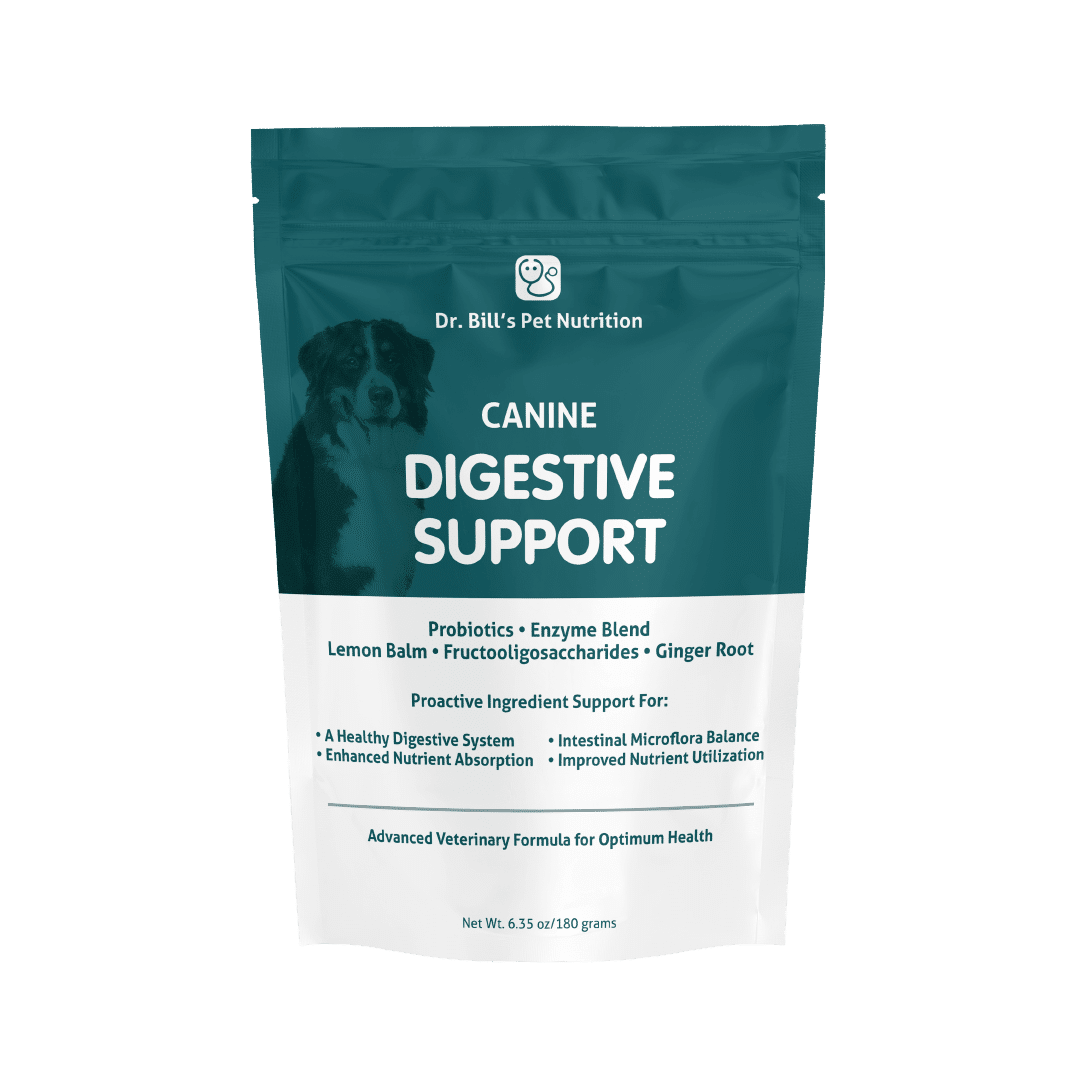 Her health has taken a 180 degree turn
"I've been giving Lily Dr. Bill's Digestive Support for about 4 months now and it has helped her SOOOOO much! We had been battling her digestive issues off and on for a few years now (vomiting, diarrhea, and skin reactions to food) resulting in some pretty significant vet bills. What we learned was that she was not processing her food properly. Through adjusting her diet and supplementing with Dr. Bill's probiotics and enzymes, her health has taken a 180 degree turn. She's feeling so good! She's so much healthier and happier, and honestly even nicer. I think having digestive issues was just making her cranky a lot of the time. And she loves the taste of Dr. Bill's powder, so that makes it super easy to give to her regularly. We love Dr. Bill's!"
-Andrea M., Pet Parent & Satisfied Dr. Bill's Customer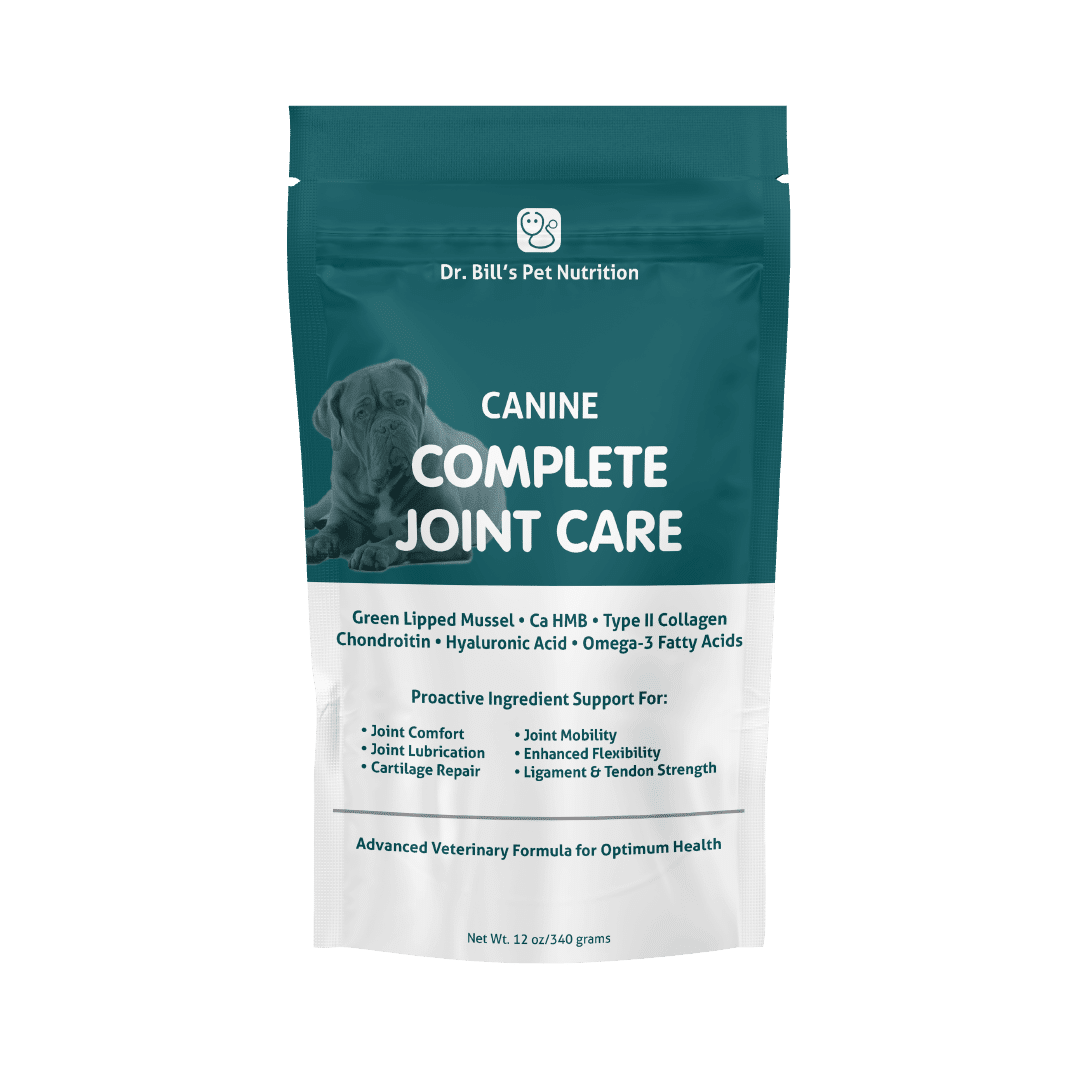 We've noticed HUGE improvements in her joints, health, and happiness
"We have a 9 year old chocolate lab and she had a major hip injury and surgery a few years back and her joints have never been the same. We have started giving her Dr. Bill's Canine Complete Joint Care and have noticed HUGE improvements in her joints, health and happiness. She hasn't been able to jump on our bed to snuggle for years and since taking this we have woken up with her snuggling up right next to us in the mornings!"
-Kelsey J., Pet Parent & Satisfied Dr. Bill's Customer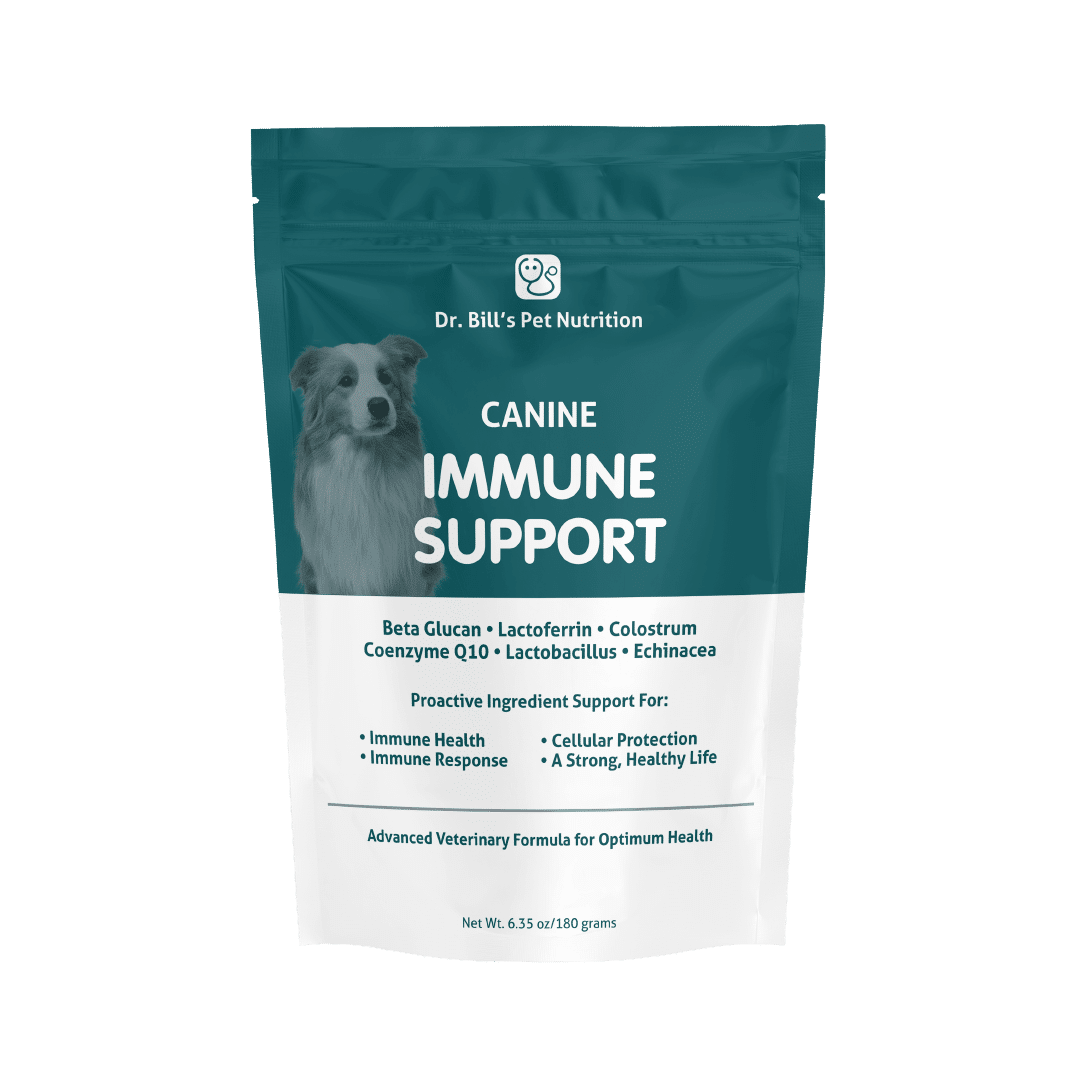 Truly a miracle product!
"I'm actually astonished at how effective this product has been! It has made an ENORMOUS difference for our dog, Indie. We started administering the supplement to Indie, and then left on a trip to London for a week. Our dog sitters fed Indie the supplement each day, according to the instructions on the label. When we returned from our trip, Indie's coat was glistening! It's so much more lustrous and smooth, with less shedding. What's more — Indie LOVES the taste of this stuff! I can't believe the improvement we've seen in only a week! Truly a miracle product! So glad we found this hidden gem, and I'm excited to see how Indie's coat looks in a month from now! Thank you, Dr. BIll! We'll be using your products for life! (P.S. Another bonus is that the serving scoop is actually quite small, so this product will last you a long time!)"
-Zack W., Pet Parent & Satisfied Dr. Bill's Customer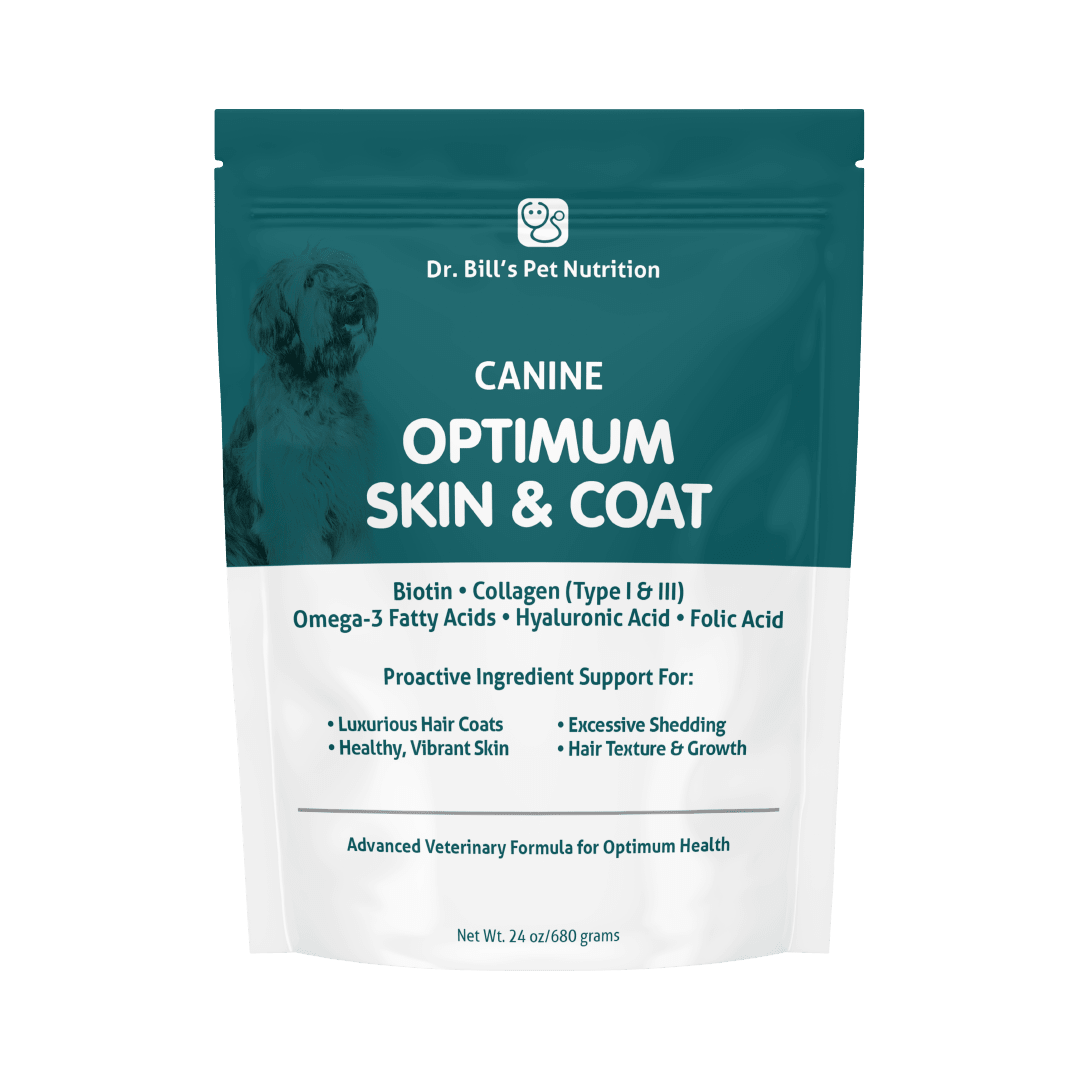 I was shocked at how thick and smooth her coat had become!
"My dog, Lola, has suffered from itchy, dry skin her whole life. Her coat always felt a little dry and wiry. I started her on Dr. Bill's Skin & Coat formula with few expectations, hoping it may at least help her itch just a little less. Then I went out of town for a week and when I returned, I was shocked at how thick and smooth her coat had become. I didn't think it was possible. Not to mention, the powder smells so good, I feel like I am serving her a gourmet meal each time I sprinkle it over her dry food. Lola is a happy girl!"
-Michelle S., Pet Parent & Satisfied Dr. Bill's Customer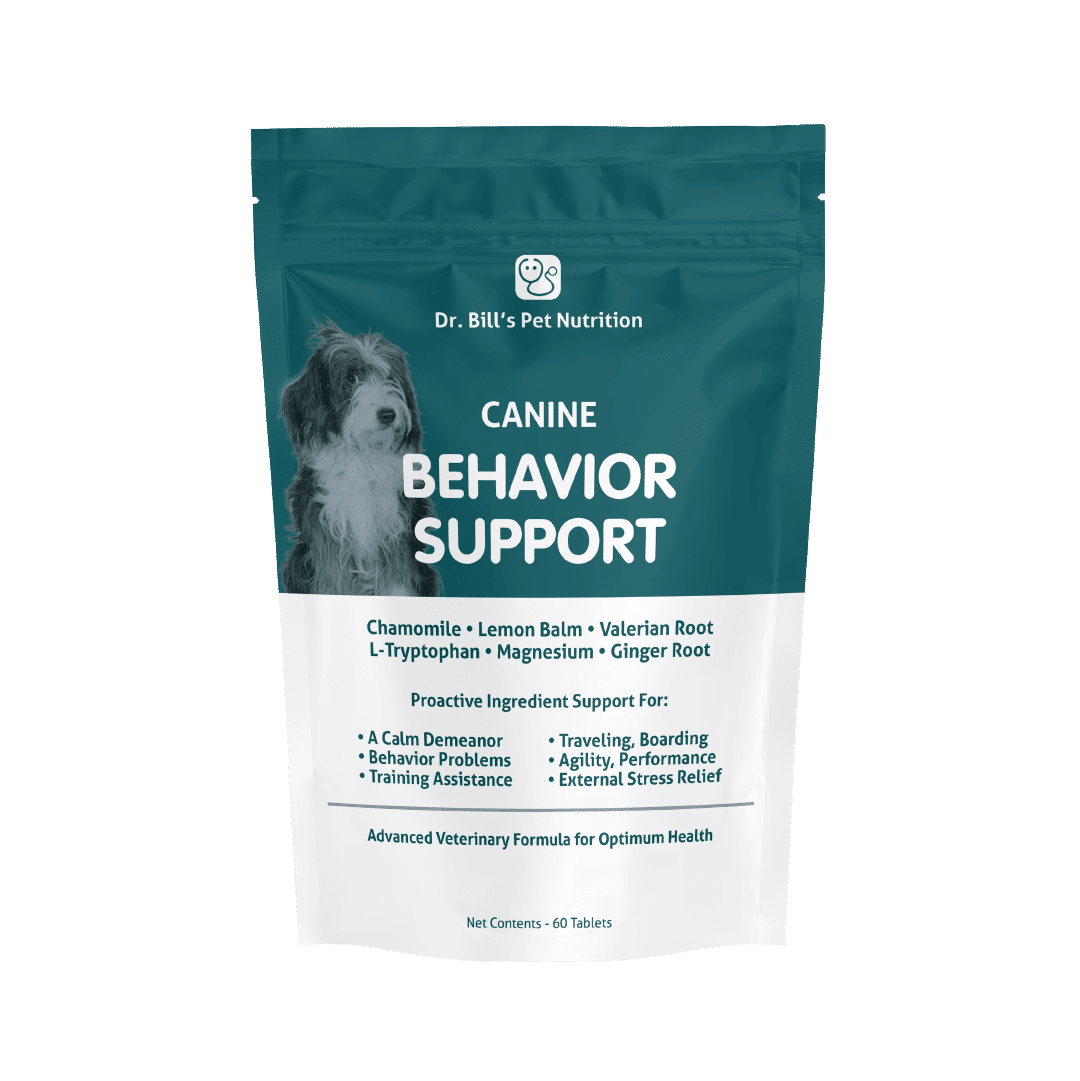 Made all the difference!
"I was dog sitting my son's mixed-breed rescue while he was out of town. It was pretty evident when he got him that he had been abused, but he was doing much better over time. Pare hadn't been to my condo before and he was so scared it hurt my heart. Cowering and afraid if I left the room. My sister-in-law uses Behavior Support on her rescue with great success, so she gave me some to try. Made all the difference! He didn't act drugged; was just way less anxious and no more cowering."
-Anita R., Pet Parent & Satisfied Dr. Bill's Customer