Heart, Eye, and Brain Support
Throughout your pet's life there are many periods where the number of harmful free radicals can overwhelm their ability to produce antioxidants – these can include periods of growth, high activity, performance, work, high stress, illness, or injury. Antioxidants are critical to the protection of the eyes, heart, brain, and other internal organs as free radicals can target the DNA and mitochondria of their cells.
Dr. Bill's Health Defense products provide a concentrated level of essential nutrients capable of activating survival genes within these cells, thereby triggering the production of millions of additional antioxidants that are capable of neutralizing harmful free radicals and protecting the health of your pet.
Health Defense has been shown to be safe for dogs and cats of all ages.
Proactive Nutritional Support For:
Overall Daily Health
Cellular Protection
Whole Body Defense
Biologically Appropriate, Natural Ingredients
Ashwagandha, Milk Thistle, Turmeric, Bacopa, CoQ10, Zinc, Vitamin C, & Vitamin E
NEW Subscribe & Save
Save 10% On Auto Deliveries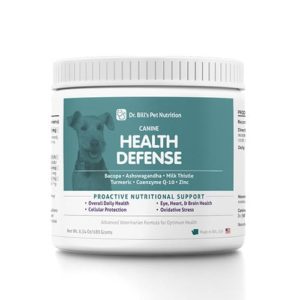 Amazon Customer
"I love that this product has tons of natural ingredients and antioxidants in it! My dog is a breed that has a higher risk of cancer, so I use this as a preventative measure. So far, so good (any my dog loves the taste!)"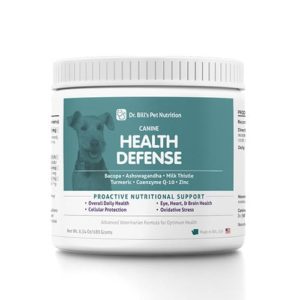 J Wash
"We have an older Australian Shepard and she's loving this! We haven't used it for very long yet but it seems like it will be a great supplement. She absolutely loves the taste of it, whether we wet it down or give it to her dry"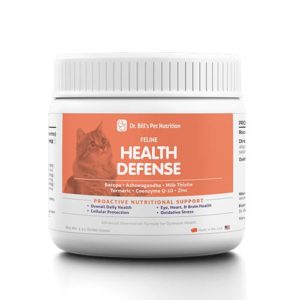 Amazon Customer
"Staying Healthy after feline leukemia diagnosis.
When our newly adopted cat was diagnosed with feline leukemia we knew there was no cure and our only course of treatment would be to keep her immune system up. This is part of her daily supplement routine along with Lysine and Colostrum. She was given two years and it has been almost three without any issues at all with her health. We even had her retested and yes she is still positive, but doing well. This is no cure, but she has had no health problems that cats with FELV usually have. I will continue to use this for all of my cats."
Newsletter Signup
& Special Offers