Are you looking for the best joint protection supplement available for your pet? One out of every 5 dogs under 7 years of age will develop joint disease or some form of joint injury. Additionally, 30% of all cats will develop arthritis at some point during their lifetime. Given this commonality, there are many pets that unfortunately have joint issues and their owners don't even know it.
Osteoarthritis is characterized by the breakdown of cartilage in one or more joints accompanied by inflammation and pain that progresses to a debilitating condition that can severely affect joint mobility and health. Fortunately, Dr. Bill's Pet Nutrition is here to help!
---
Dr. Bill's Complete Joint Care
Dr. Bill's Complete Joint Care contains a proprietary Aliva Joint Support Complex along with multiple key ingredients that work together to control the events that allow joint damage to become a chronic destructive, debilitating disease. Complete Joint Care is the most comprehensive, natural joint protection pet supplement available today. It is capable of breaking the osteoarthritis cycle, repairing damaged cartilage, and strengthening muscles, ligaments, and tendons, which are the supporting structures for your pet's joints.
---
Joint Care for Cats
Sadly, a high percentage of senior cats suffer from osteoarthritis, a debilitating and painful joint condition. Feline Complete Joint Care provides joint healing nutrients as well as muscle, ligament, and tendon strengthening agents to help support the recovery of affected joints. No product available today compares to the power of proprietary Aliva Joint Health Complex, exclusive to this Dr. Bill's supplement.
Feline Complete Joint Care is a highly palatable powder supplement designed to defend your cat from joint disease. Sprinkle dry onto any feline diet, it also may be moistened to make a tasty broth for your cat.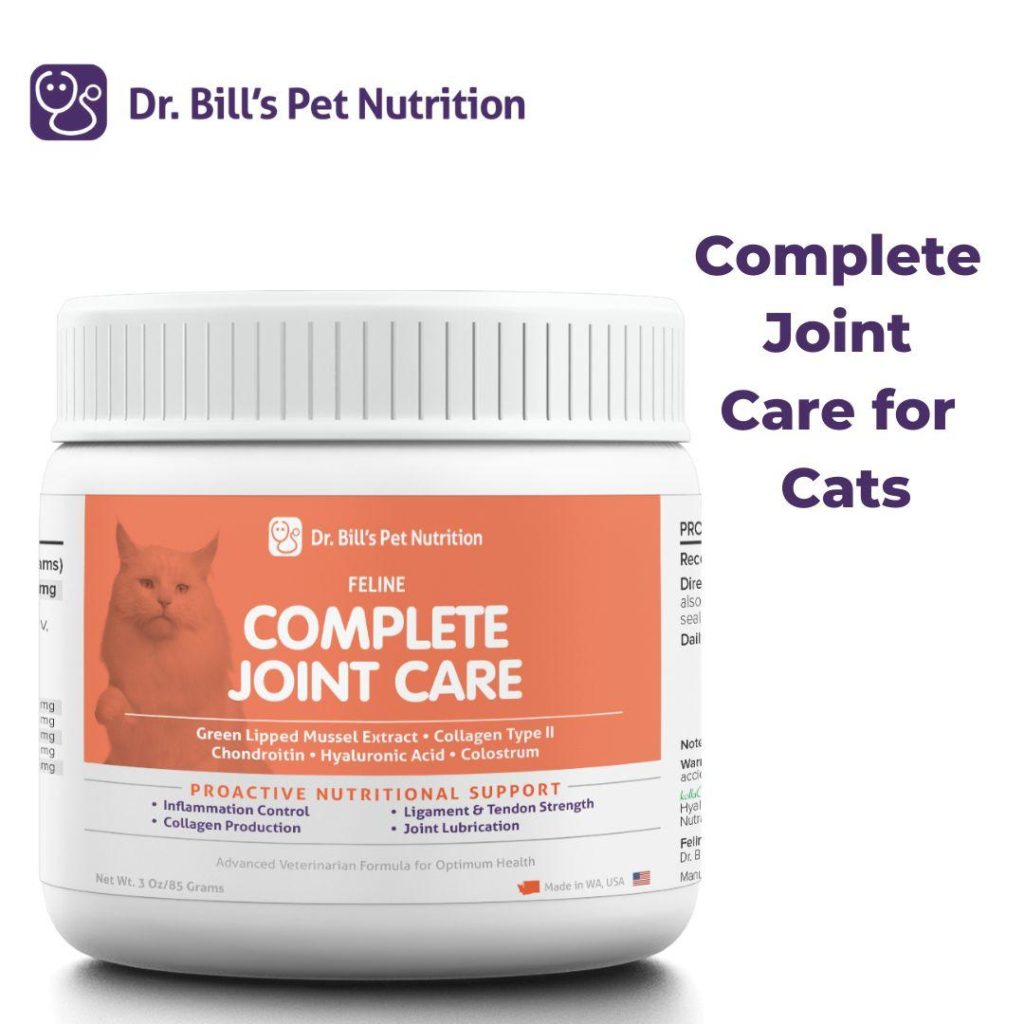 ---
Joint Care for Dogs
Unfortunately, nearly every senior dog suffers from some level of osteoarthritis, although joint issues in adult-age dogs are common as well. Repeated joint injuries, no matter how minor, eventually leads to osteoarthritis that can completely sideline even the best of athletic dogs.
Canine Complete Joint Care is an extra-strength, scientifically advanced joint care supplement powder that provides a concentrated level of proven ingredients recommended for the support and maintenance of healthy hip and joint function. The proprietary Aliva Joint Support Complex provides key nutrients that have demonstrated their ability to support joint health, maintain synovial fluid levels, repair cartilage, and increase muscle, ligament, and tendon strength. Complete Joint Care also contains a full complement of essential antioxidants that help neutralize free radicals known to cause cellular damage within joints.