Feline Complete Joint Care
Feline Complete Joint Care contains 44 essential ingredients in support of joints and their surrounding tissues. In order to help injured or arthritic joints improve, it is essential to control inflammation, increase joint lubrication, assist with cartilage repair, and strengthen support structures including ligaments, tendons, and surrounding muscles.
Provides Proactive Ingredient Support For:
check circle icon Joint Comfort
check circle icon Joint Lubrication
check circle icon Cartilage Repair
check circle icon Joint Mobility
check circle icon Enhanced Flexibility
check circle icon Ligament & Tendon Strength
Directions For Use
Dosages may be administered once a day or split and provided twice daily. Sprinkle product onto any feline diet. Mix in or moisten to make a tasty, protein rich broth. To assure freshness and avoid settling, shake periodically, keep sealed, and store in a cool, dry place. Whenever introducing a new animal health supplement to the diet, it is always best to start with half the recommended dosage for the first week.
Daily Recommended Dosage (Servings per Container — 95)
Cats (All Ages)
Weight Range (lbs.)
Scoops/Day
Warning: For animal use only. Keep out of the reach of children. In case of an accidental overdose, contact a health professional immediately.
What is Arthritis?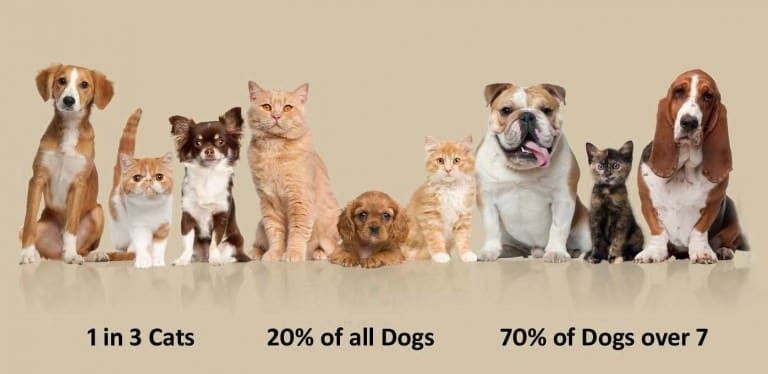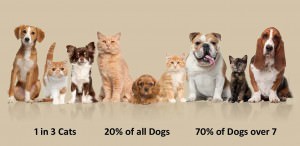 Arthritis is an inflammatory response to joint trauma or disease that causes further damage to joints when the inflammation becomes chronic.
1 out of 3 cats will develop arthritis during their lifetime.
1 out of 5 dogs under seven years of age will be affected by joint injury or disease
7 out of 10 senior dogs over 7 years of age suffer from arthritis
All total, it is estimated that over 14 million pets in the U.S. have arthritis – some as young as one year of age. Unfortunately, only a small percentage of these animals are receiving treatment.
The joints of your pet's body are composed of soft connective tissue and cartilage. Their role is to provide cushioning between bones and to allow normal movement. The active lifestyle of our pets makes their joints susceptible to injury.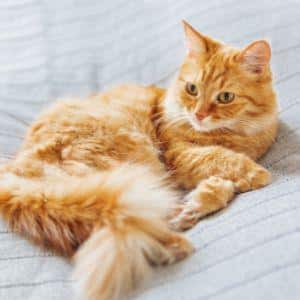 For Senior Cats
Sadly, a high percentage of senior cats suffer from osteoarthritis, a debilitating and painful joint condition. Feline Complete Joint Care provides joint health nutrients as well as muscle, ligament, and tendon strengthening agents to help support the recovery of an affected joint. No product available today compares to the power of the proprietary Aliva Joint Health Complex, exclusive to this Dr. Bill's supplement.
While muscle disease in cats is rare, it can be present at birth or occur later in life due to things like nutritional imbalances or injury.
Understand the causes and treatments of joint problems in dogs and cats and how Dr. Bill's Complete Joint Care supplement can help.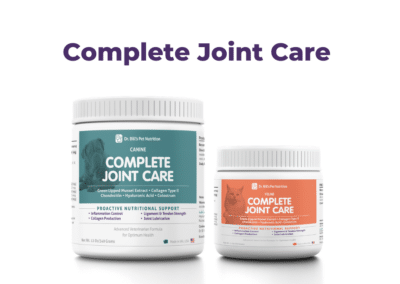 Are you looking for the best joint protection supplement available for your pet? One out of every 5 dogs under 7 ...
What Pet Owners Are Saying